Project management, a profession for some – for others, it's a requirement as well as their day job, no matter what role or level of seniority. As a marketer I manage projects on a daily basis, having never been project management trained. The projects are varied in size and duration, from sending out an internal mailshot to restructuring a team.
I'd love to say that every project I've ever managed has been a success – most have. I've also had some challenges and failures, sometimes my fault and sometimes caused by others. I will admit I did not foresee a lot of the challenges that I've faced. Often these challenges are caused by, or from the lack of: time, resources, communication, collaboration; as soon as you start, something changes; and then there are the stakeholders to communicate with and manage.
I only manage projects off the side of my desk…
I spoke to Trish Thurley, our Project Management Master Trainer, and asked her how project management skills would make a difference to me as a marketer, she said "you'll be able to use a complete project management process and structure to think, plan and do. Saving you time and highlighting any possible risks that you may encounter – before they occur!
"It isn't just Project Managers and marketers who manage projects, there are individuals from large and small organisation who are constantly running projects off the side of their desk."
Trish reminded me, "project failure or over-run is not always your fault. As a marketer you will deal with a lot of stakeholders, both internally and externally, you'll know that lack of buy-in from them or perhaps a brief that's open to too much interpretation can cause problems. Being able to manage projects, large and small, like a professional Project Manager will help you gain a reputation for delivery."
Gain a reputation for delivery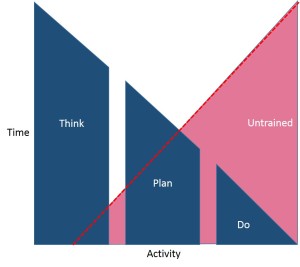 Trish shared a model with me and some tips to help me think about the importance of taking the time out to learn about project management. The model is adapted from our Project Management Survival Guide™ workshop. It shows how trained Project Managers (in the blue) break up their projects into thinking, planning and doing – spending more quality time thinking and planning, and less time doing (because they have effectively planned and mitigated possible risk). Whereas, untrained individuals spend less time thinking and planning, and a lot more time firefighting trying to get things done. Sound familiar?
Think, plan, do – some tips from Trish:
Think – about where you are trying to get to – your objectives, what options are available to you, and what 'success' and 'finished' looks like (focus on benefits and outcomes, not tasks).
Plan – effective planning reduces effort, decreases risk and maximises flexibility. Ask yourself: What needs to be done? How might we do it? Who needs to be involved? When does it need to be delivered? And what If it doesn't go according to plan? The Project Management Survival Guide™ provides you with a practical framework and tools to ensure you plan effectively and save time when doing it.
Do – you need to get the work done as quickly and efficiently as possible. You can add the most value if you do the 'Think' and 'Plan' well. Then instead of fire-fighting, you can effectively keep your key stakeholders up to date on progress and make optimal decisions when things change.
Learn about project and stakeholder management: