Written by Robert Fisher – 10.06.2015
Even if you are not familiar with cycling, you will no doubt know who Sir Bradley Wiggins is, or at least recognise the name. After his success of winning the Tour de France and a gold medal in the 2012 Olympics, and more recently his attempt to cycle as far as he could in one hour last weekend – it is hard not to notice this UK sporting hero as he regularly makes front page news.
I am pleased to say that, last weekend in the Olympic Velodrome – I was there. After some frenetic attempts at booking tickets – which sold out in 6 minutes – I was thrilled to be the proud owner of my two tickets!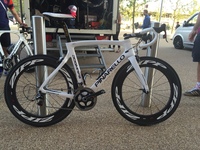 This was to be my first time going to watch an indoor track event, which many people call the 'purist' form of cycling. I had never really contemplated this before, but it was evident that every detail matters. Watching one of the preliminary events – I noticed the bikes were completely stripped of every spare part. Not one aspect of a normal bike was present if not needed. No brakes, no gears – just a bike in its most basic form. From an engineering perspective – beautifully simple!
Eventually Sir Bradley took to the Velodrome with a roar from the crowd. He was, as you would expect, completely focused on the job in hand. Beard shaved, hair cut short he positioned himself on his record breaking bike ready for the starting position. Every aspect of planning, preparation and execution was visible to us. Countless team technicians made sure each element of his preparation was precise and completed. Then he was off – to cycle his way into the record books one hour later.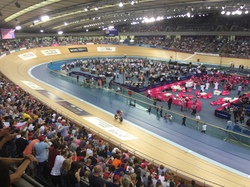 It strikes me that track cycling has strong links to how 'text book' projects should be run. Some strong Project Definition from the start, careful analysis of the scope and definition of success, followed by incremental changes made as the project starts and proceeds towards a world record breaking success. I am sure that there was a de-brief and much analysis of Bradley's performance after the race too – checking what could be improved and how to save valuable seconds for future races.
Many people could probably make a guess at the steps needed to run a project. According to the PWC Global Insight Survey 2012, a survey run across 38 countries and over 30 industries, 86% of projects fail to deliver against their budget, schedule, scope, quality and benefits baseline.
If you feel it's time to stop delivering "business as usual" projects, and want to start delivering "record breaking" success in your projects – why not give us a call on +44 (0)20 7924 8760. We have 20+ years of helping companies go from good to great projects – with our Project Management Survival Guide™ and Agile Project Management™ workshops, our Stakeholder Engagement (including Simulation)™ and our Project Management consulting/coaching.