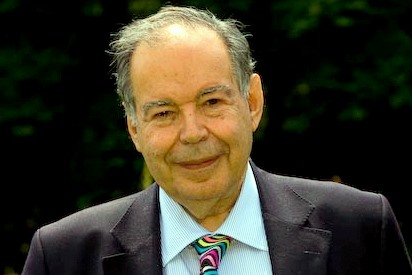 Edward de Bono – 19th May 1933 – 9th June 2021

It is with great personal sadness that I report that Dr Edward de Bono, a man of infinite talent, brilliance and a close personal friend of mine, has passed away on 9th June 2021.
Edward de Bono is probably best known for his internationally bestselling book 'The Six Thinking Hats'. A book that has literally changed the way many millions of people think – giving us techniques that are used by Governments, multinational businesses and even taught in schools to future generations today.
Born in 1933, he quickly found his place amongst some of the world's most brilliant brains – graduating as a doctor from the University of Malta, before studying Physiology and Psychology at Oxford University, then on to a PhD at Cambridge University.
Among the first of his 85+ books published was "The Use of Lateral Thinking", in which he coined the term Lateral Thinking. He continued to challenge our current ways of debating, thinking and innovation – insisting that creative thinking was not the preserve of "creative types", but a skill that can be learnt, practised and harnessed by anyone that uses his techniques.
But aside from the public persona, there was far more to the man than his prolific writing. And when I say prolific, I recall the times he would disembark from a long-haul flight with a completed manuscript for another book in hand!  He was not short of ideas!
I am proud to say that I first met Edward 24 years ago, as a newly graduated, fresh-faced consultant working for his then UK distributors. One of my first assignments was to manage our stand at the HRD London show, where Edward was the opening speaker. What a baptism of fire!  He kindly agreed to a book signing on our stand after his presentation.  I watched in awe as the queue stretched around the periphery of the entire conference hall. People waiting up to an hour for a few seconds with the great man.
Since this first meeting, I founded www.indigobusiness.co.uk and am proud to say we have spent the last 20 years as his UK distributor.  Our army of brilliant de Bono Consultants change the way companies all over the world think. It's been a truly amazing journey. But away from the bright lights of the conference stages, I am reminded of three abiding characteristics that sum Edward for me.
Man of the people – Edward was always happy and keen to talk to anyone. I remember how, before presenting at a packed stadium, he met me and a colleague in the local café for a 'full English'. He took great delight in discussing recent scandals grabbing the headlines from the TV show 'Big Brother', keen to challenge and genuinely listen to our thoughts on perceptions on all things – no matter how trivial.
Captivating Hearts and Minds – If you were ever lucky enough to see him speak, you will remember the acetate rolls and "doodles" that he would draw while presenting. Not the most modern of ways to present you may say – and yet you could hear a pin drop when he spoke. The audience was visibly captivated, hanging on his every word and gesture and totally absorbed.  Quite astonishing to witness.
Always time for a joke – I remember Edward kindly inviting me to his London home for dinner shortly after starting Indigo. My wife, noticing I was nervous, asked why the fuss? "It's not every day you go to dinner with one of the top 10 most intelligent people in the world" I said. I needn't have worried. Edward spent the evening reeling off jokes that not only put me at ease, but is core to the founding principles of his work. He spent his life meeting people in awe of him – so he learnt to make these meetings as easy as possible for us.
 "Humour is by far the most significant activity of the human brain."  – The Mechanism of Mind, Edward de Bono, 1969.
Over the past year there has been so much loss around the world. Having lost family myself recently, I chose not to focus on the loss, but more on the extraordinary achievements that we as individuals make on the world, and the impact these achievements have on those around us.
And my goodness – what an extraordinary life Edward has led! Such a bright, piercing star emanating brilliance, intelligence and humour every day of his life. A full life, a remarkable career, and a gentleman.
I feel privileged to have walked in the shadow of this cultural giant!
RIP Dr Edward de Bono.