Projects are a great way to manage change. But with more and more projects clamouring for the same resources, some are likely to fail. Add increased pace, increasing levels of complexity and ambiguity, and achieving project success becomes extremely difficult.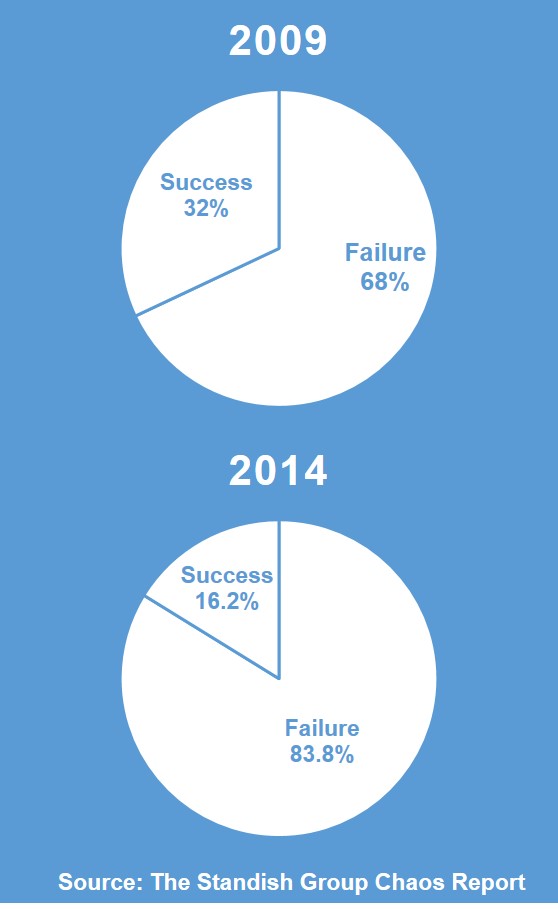 The Standish Group Chaos Report 2009 put the failure rate of projects at 68%. Their 2014 report puts that figure at 83.8%, so it looks like we are getting worse, not better at delivering. The projects reviewed failed by not delivering:
On time.
On budget.
Promised benefits.
Am I a Project Sponsor?
The Association for Project Management (APM) defines a Project Sponsor as, "The individual for whom the project is undertaken and who the primary risk taker is. The Sponsor is a member of the Steering Group which provides strategic direction and will include senior managers and, sometimes, key stakeholders."
If you are a Project Sponsor you will take ownership of project goals and provide the high-level direction required for the project team. Our clients continually tell us that the role is often misunderstood; takes up too much time (mostly through having to micro-manage); does not exist; or becomes non-existent part way through the project.
I'm a Project Sponsor, how do I address failure and save myself time?
Your key objective should be to create an environment where on time, on budget delivery is the norm. By doing this, you will save time; reduce stress; minimise conflict; and confidently deal with issues, risks and constraints – leading to a higher success rate. Some ways to achieve this are:
Understand and promote what's expected – your ability to confidently govern and control successful projects alongside your day job can only happen if you and your senior colleagues understand exactly what is expected of a Project Sponsor. You need to be able to adopt a balanced approach to choosing, sorting and prioritising your projects in line with strategy and resource constraints. We offer a one-day, in-house workshop that will help you and senior colleagues to understand, communicate and lead projects to success. Find out more about Sponsoring Projects™…
Adopt a level-playing field for common language, framework and tools – you may be mixing qualified project managers with people or process managers, qualified in other disciplines. You may not be project management qualified yourself! When these important team members get together there will be differing understandings of what is required; what's being utilised and why; and the prospective risks or constraints involved. The Project Management Survival Guide™ brings everyone up-to-speed, providing them with the knowledge to be able to use proven tools and templates for many situations – freeing you up to do your day job! Find out more about The Project Management Survival Guide™…
Our Agile Project Fundamentals™ – focuses on the practical steps needed to run, or play a part in, an Agile project. It provides you with the principles, tools and techniques that can be used in the workplace to ensure you deliver maximum project value, on time to budget, every time. More…
Shorten meetings and reach consensus – The implications of long, unproductive meetings can be hugely detrimental, not only for the individuals involved, but also for the organisation. It creates an environment where conflict and negativity reign. With those who shout the loudest being the only ones getting their opinions heard and others fearful of speaking up. Edward de Bono's Six Thinking Hats® is a powerful way to ensure meeting attendees think in parallel (getting the group to think in the same way at the same time) and co-operate (consensus based decisions, saving time and reducing conflict). Find out more about Edward de Bono's Six Thinking Hats®…
These approaches are scalable and flexible, not "one size fits all", and consistently helps our clients to ensure their managers set-up and control their projects effectively every time. The great news about projects is that return on investment is easily measured. If your organisation identifies the desired project benefits it can quantify the outcomes. Rather than ignoring these approaches and measuring the outcome against unrealistic and shifting goals – then your projects are going to fail!