Research shows that the majority of projects spend more time and money than estimated, and many also fail to meet customer needs accurately too. This means delivering poor customer value, and low confidence in project success.
Many organisations are struggling to decide on the project management methodology that they should use, the most common being:
In this article we'll look at these two ways to manage projects and a hybrid model that combines the best of both.
Traditional Waterfall…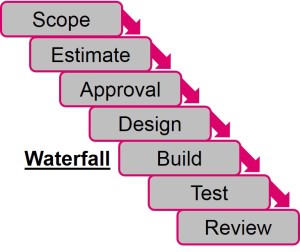 Waterfall is the most popular traditional project management methodology. Its phased and sequential linear progression executes static phases in a logical order. It has:
Requirements that are set up-front – making planning more straightforward, reducing flexibility.
A clear, formal roadmap for the entire project – increasing control and allowing methodical record keeping and documentation. Making Waterfall projects susceptible to expensive time, cost, and quality scope creep.
Stakeholder buy-in – they know what to expect as the project develops, however they are not involved throughout the process and often change their requirement.
Academic foundation – PMI certified.
Our Project Management Survival Guide™ provides you with everything you need to know about project management methodologies and how to implement practical project management tools and techniques. Find out more…
Agile project management is a value-driven approach specifically designed to address the challenges of project failure. Agile removes the complexity of delivering the whole project at one final point, by breaking the project down into short iterations that are identified, planned, developed, tested and delivered frequently. Project teams take feedback and use it to refocus and adapt the project to what the business 'now' requires. This helps you to repeatedly deliver accurate, high-priority, high-quality and within budget solutions:
Continually evolving – reprioritisation is easier through multiple short-term plans that allow for interim changes, although time and effort is continually required by the project team.
Delivered in 'chunks' – challenges being identified sooner, lessening the risk of building the entire requirement only to find costly and time-consuming faults.
Increasing the value you add and stakeholder engagement – stakeholders should be more involved.
Our Agile Project Fundamentals™ workshop teaches you the fundamentals of Agile project management. Which is an approach specifically designed to address these challenges, repeatedly delivering an ever-more accurate solution to time/cost/quality in a way that ensures maximum value and project customer engagement. Find out more…
Scrum is an Agile framework. It is a collaborative way to develop complex projects using the right people (their skills and know-how) to iterate and incrementally deliver a product/solution. Our Scrum Survival Guide™ helps you to understand the Scrum Master role, the responsibilities of the Scrum team and how Scrum builds collaboration to deliver results in complex and changing environments. Find out more…
Combining the two for project success…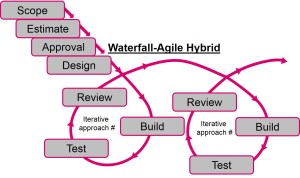 Often referred to as 'Agifall', combining the best of Agile into a Waterfall process with the objective to maximise time, control cost and improve quality. This solution is common in global organisations.
Your project teams need to define the initial requirements and plan using Waterfall, breaking them down and prioritising them into phases that are built in parallel using Agile principles.
The benefits of ensuring your project teams can combine Agile and Waterfall are:
Clarity by retaining the development, tracking and monitoring of Waterfall.
Adaptability and flexibility – Using Agile to act on continuous feedback and changing requirements. This combination is really useful to teams when they are dealing with projects that have constantly changing requirements.
Improved collaboration – enabling teams to choose the methods they prefer, to ensure they define initial and change requirements easily.
Why not talk to us about our range of project management workshops? Contact us…