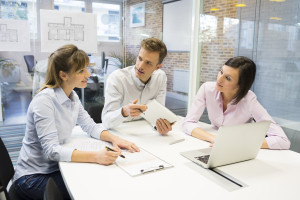 By Trish Thirley, Master Trainer Project Management
Often, the word 'project' elicits a groan from managers and staff alike.
Overrunning, overspending or just not happening! Those are the typical pain points that our clients share with us when we talk to them about the way they manage large and small projects.
When we review the reasons why these capabilities may not be working effectively we are able to provide the following solutions to the most common challenges:
The project was not understood.
There was no support when needed.
Project team members are all at differing levels of understanding.
People work with different project methodologies.
We kept having problems.
I've got no time!
The stakeholders are just difficult!
An ideal world
What if you could imagine a world where delivery on time, on budget and with the desired outcome was the norm? Every week you felt a deep sense of achievement and applauded for your achievements?
Here are the fundamentals that you require to make your projects work:
Planned – No one can predict the future, but you can (with the application of a bit of science) make an educated guess of the most likely unfolding of events and create a good forecast. This helps you to prepare efficiently for best and worst case scenarios. In their book 'Great By Choice' – Morten T Hansen and Jim Collins, leaders of 10 highest performing organisations are compared with their peers in less successful organisations. These '10X' leaders have all mastered a planning discipline as a fundamental behaviour.
Our suite of project management workshops equip you with best practice tools and templates for creating practical, easy to share plans which focus attention on getting good quality decisions from your Sponsors, in a timely fashion.
Measured – 'Faint praise and loud criticism' is a phrase I often hear when organisations describe themselves. Landing where you said you'd land is taken for granted, whereas, missing spectacularly elicits too much internal and external attention.
The Project Management Survival Guide™ show you how to set up appropriate 'milestones' in your plans, an early warning system to potential problems. You develop skills for preventing problems before they arise and a means to communicate with senior management to draw attention to your skilful prevention, rather than beating you up for a near miss.
Organised – You only have 24 hours in a day and, I'm sure, would rather not spend them all at work, so you need to achieve high efficiency and high productivity.
The Project Management Survival Guide™ uses an 8 step model to pose the killer questions, to help you hit the ground running. Panic, and an impending deadline, often causes people to jump onto random tasks on a project. Giving a false sense of progress which often burns time with the wrong results. Our workshops provide the knowledge and tools to ensure you invest time in activities that add value, like identifying and proactively managing the critical path, saving you a lot of time – in no time at all.
A complete project management suite of workshops:
Our project management workshops help you to be more effective, whether running projects off the side of your desk or managing project teams, and ensure larger organisations develop a practical project management capability. Developing project management methodologies:
Ensuring you have the business soft-skills to tackle the business and personal challenges projects bring:
Think on Your Feet® – provides techniques and strategies that help you to analyse, organise and present your ideas with clarity, brevity and impact. Never be caught on-the-spot in a project meeting again. More…
Writing Dynamics™ – plan, draft and edit your business writing to produce messages that are readable; gain attention; understood and remembered. More…
Edward de Bono's Six Thinking Hats® – halve meeting times and double their effectiveness with Dr Edward de Bono's internationally renowned decision-making, idea evaluation and meeting management workshop. More…